Free Member Resources for VAs
Podcast for Virtual Assistants
The Ridiculously Good VA Show – Join Tracey every week for a new podcast episode, designed to help you become the best Virtual Assistant you can be. We talk about mindset, marketing, money, time management, skills, services, getting clients and so much more!
Tune in anywhere you listen to your favourite podcasts!
---
Free Virtual Assistant Training Videos
Looking for great tips on how to build and grow your VA business? Subscribe to my YouTube channel for Free VA Training!
---
'Back to Basics' Training
The Back to Basics weekly free training series has ended but here are a few free training videos for you – that might answer your questions about becoming a VA or starting to build that solid foundation you need in any area of your business to see more success.
Getting Started as a Virtual Assistant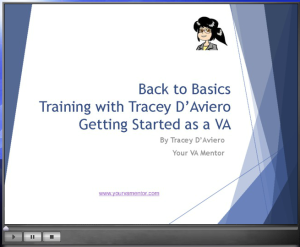 If you are considering becoming a VA, or if you have just gotten started and aren't quite where you want to be, check out this training session.
We'll talk about what you need to open a VA business – from mindset, to attitude, to actual STUFF you need to set up. This one's awesome!

http://www.canadianava.org/bb-startva
---
Building Your Business Plan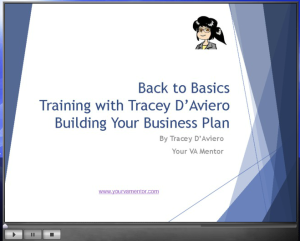 Do I need a business plan to be a VA? Well if you want to have any level of success, YES you do. So get yours started!
We'll talk about the most important elements you need to research to build your business plan, and why each of those things is so important for your success.

http://www.canadianava.org/bb-bizplan
---
Goal Setting to Get Clients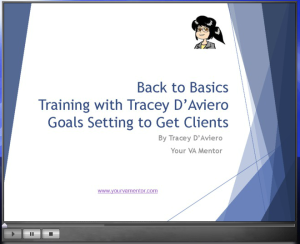 Getting clients takes strategy, planning and most of all ACTION. If you are not setting goals to get new clients, then you are probably working harder at it than you need to.
In this lesson we talk about how to set goals to break the daunting task of connecting with people to get new clients up into smaller pieces, so it's actually fun!

http://www.canadianava.org/bb-goals
---
Start Your VA Business Checklist
Getting your Virtual Assistant business started is a lot of work. It's not hard to do, but there are lot of steps if you want to do it the right way.
There are a lot of decisions to make, there are some expenses you will need to incur, and there is a lot of planning to do.
Follow this checklist to walk through the stuff that you need to consider before getting started. Download your checklist here.
---